How Can Krav Maga Help Your Family Bond?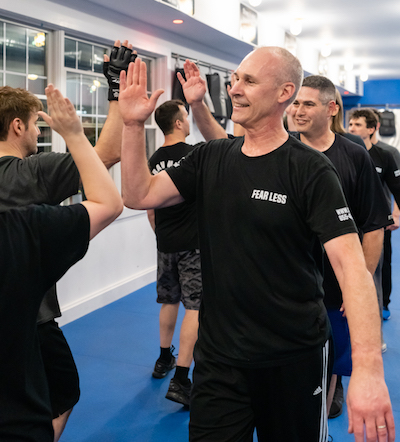 Join us at Krav Maga New York for one of the most unique offerings around! Our Family Krav Maga classes offer you the opportunity to work out with your children, promoting a fun, structured, and supportive environment with age-appropriate difficulty, allowing even our youngest Krav Maga students to experience fitness and build confidence. Get started on building unshakable self-esteem and creating stronger family bonds with our family self-defense classes right here in Somers!
Just fill out the short form on your screen to learn more!
Krav Maga Families Stick Together
Our Family Krav Maga classes typically begin with a warm up, followed by drills and practice to improve form, voice, and technique. Our instructors will scaffold basic concepts such as awareness alongside realistic situations. From laughter to hugs and high fives (plus frequent water breaks!) we cultivate a positive atmosphere that is inclusive for all families across Somers, Croton Falls, and Purdys. We always conclude with a verbal self-defense lesson.
Classes are offered every Sunday at 10:30am, offering you and your family a chance to take on fun exercises, real-world self-defense skills, and create powerful bonds.
Join us for Family Krav Maga classes and get started on:
Build fitness & confidence for the whole family
Learn Krav Maga at your own pace
Build stronger family bonds
Connect with other families across our community
Stop By This Sunday For Your First Family Krav Maga Class!
Learn conflict resolution skills, build confidence, and enjoy a new and unique family activity here at Krav Maga New York. We're proud to help families from across our community create tighter bonds and learn reality-based self-defense, keeping them safe in any situation. Join us in Somers for Family Krav Maga classes that are exciting, high-energy, and fun for the whole family!
Just fill out the short form on your screen to get started!