Help Your Child Become Confident & Strong With Kids Martial Arts Classes
Our Kids Martial Arts classes at Krav Maga New York follow a fun and simple routine: warm-up, class lesson, and drills. Our classes offer students fitness as well as self-defense training and verbal skills. Our classes are available at multiple times throughout the week, so there are a variety of options to meet demanding schedules! Join us in Somers for Kids Martial Arts classes that will help your child develop soaring confidence, discipline, smart goal-setting skills, and lifelong fitness.
Just fill out the short form on your screen to learn more!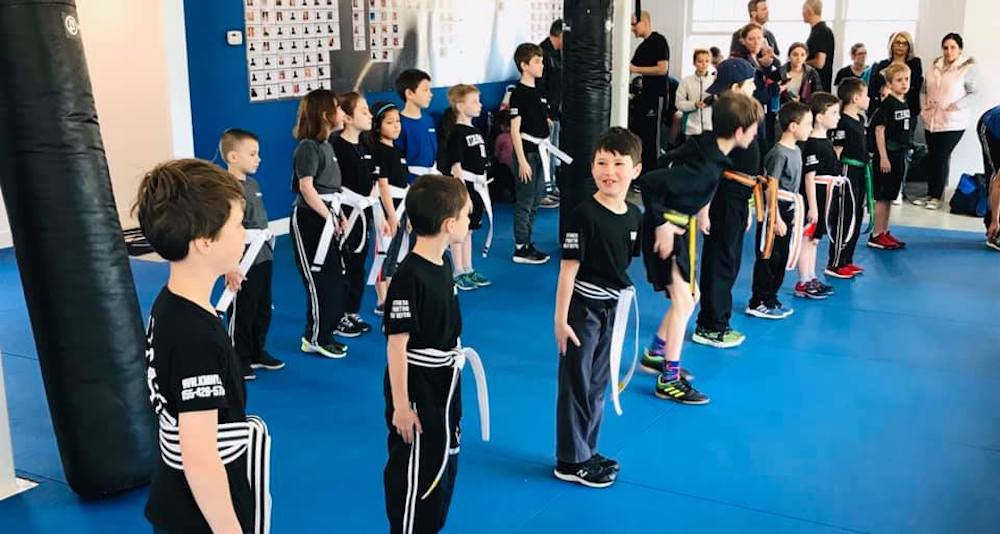 How Can Kids Krav Maga Classes Help Your Child Succeed?
At Krav Maga New York, our Kids Martial Arts classes emphasize perseverance, discipline, and self-confidence. We want to help your child develop important life skills that will translate into success at school, at home, and in their future careers. By offering fun yet challenging training and instilling values of courtesy and respect, we hope to challenge youth across Somers and beyond to become the best they can possibly be.
Join us for Kids Martial Arts classes and get your child started on:
Developing unshakable self-confidence
Becoming more disciplined, courteous, & respectful
Learning smart goal-setting skills
Making new friends and finding positive mentors
Our Kids Martial Arts Classes Are Active & Fun!
Starting as early as 4 years old, you can help your child build their strength and flexibility, connect with our wonderful Somers community, and develop the confidence and discipline they need to find lasting success. Krav Maga New York is here to help your child become the best they can possibly be... learn more about our age-appropriate kids krav maga classes below!
Little Ninja Students (Ages 4-6)
Kids learn motor skills, including balance and coordination. Krav Maga New York instructors explain everything in very simple, easy-to-understand language. Children learn the same principles of character that are taught to elite Black Belts. Through engaging stories, they will come to appreciate the virtues of Modesty, Courtesy, Leadership, Integrity, Perseverance, Self-Control, and Indomitable Spirit.
Little Warrior Students (Ages 7-10)
here kids learn refined Krav Maga techniques through advanced skills that are simply demonstrated and practiced. Fitness is also emphasized. Adult-level techniques are introduced through age-appropriate explanations, including our highly-effective verbal self-defense system.
Young Paladin Students (Ages 11+)
Young Paladins learn to develop advanced Krav Maga techniques not taught in the younger classes. The intensified curriculum teaches students how to be prepared for threatening situations that may occur without warning. Students are taught to defend themselves in an appropriate manner when faced with a variety of situations. Positive images and expectations are part of the training, including verbal self-defense, to emphasize the importance of character development.
Get your child started onpositive self-growth and experience the life-changing power of the martial arts! They'll have fun, become better, and learn to exemplify a true warrior's spirit!
Join Us For The Best Kids Martial Arts Program in Somers!
Our team at Krav Maga New York is committed to giving back to our community, and that means helping to build stronger, more confident youths. Our Kids Martial Arts classes have helped students from across Somers, Croton Falls, and Purdys develop critical life skills and become happier, healthier, and bully-proof!
Just fill out the short form on your screen to get started!