Take On A Modern Approach To Self-Defense With Krav Maga
Unlike some other traditional forms of martial arts, Krav Maga is more martial than art. Developed by the Israeli Defense Forces as a highly-effective real-world fighting system, Krav Maga incorporates simple techniques and strikes and focuses on modern training drills. Our classes at Krav Maga New York can help you learn practical self-defense, build unshakable confidence, achieve your personal fitness goals, and live fearlessly with the knowledge that you can protect yourself and your loved ones.
Just fill out the short form on your screen to learn more!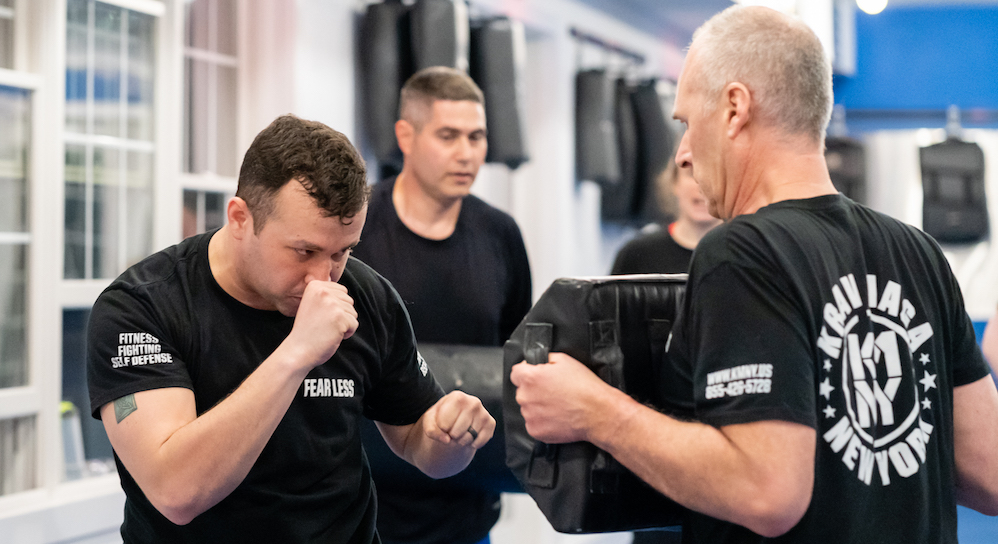 Krav Maga Is About Self-Defense, Fitness, and Unwavering Confidence
At Krav Maga New York, we teach real self-defense. Krav Maga is not a competition sport. It's designed for keeping you safe on the streets, where rules don't apply and losing is not an option. Our world-class instructors will show you the best way to neutralize attacks and escape unharmed, so that you can live fearlessly in Somers, Croton Falls, Purdys, or abroad. We'll also teach situational awareness strategies to identify potential threats and help you determine when and how to use force.
And not only will you gain an elite skill set that will keep you safe, but you'll also burn calories and boost your overall fitness and athleticism!
Join us for Krav Maga classes that teach men and women across Somers:
A reputable, highly-effective self-defense system
Awareness strategies to identify danger before it strikes
How to build confidence & live without limits
Tools for building robust fitness, losing weight, & building muscle
Discover a community that uplifts & empowers them
No one wants to imagine what would happen if they were attacked or accosted on the street, but our Krav Maga classes will offer you insight on how to deal with dangerous situations quickly, efficiently, and without injury. No matter your age, ability, or fitness level, we can provide you with simple self-defense techniques that could save your life. The only risk is not being prepared.
Enroll In Your First Krav Maga Class in Somers Today!
Krav Maga New York places a high premium on the safety and integrity of our community, which is why we offer only the best training in our Krav Maga classes. We want to provide accessible self-defense training to people across Somers, Croton Falls, and Purdys. Our members come from all walks of life, and with a wealth of trial offer options, there's nothing to keep you from getting started with your first class today.
Just fill out the short form on your screen to reach out!